Roll over image to zoom in







Description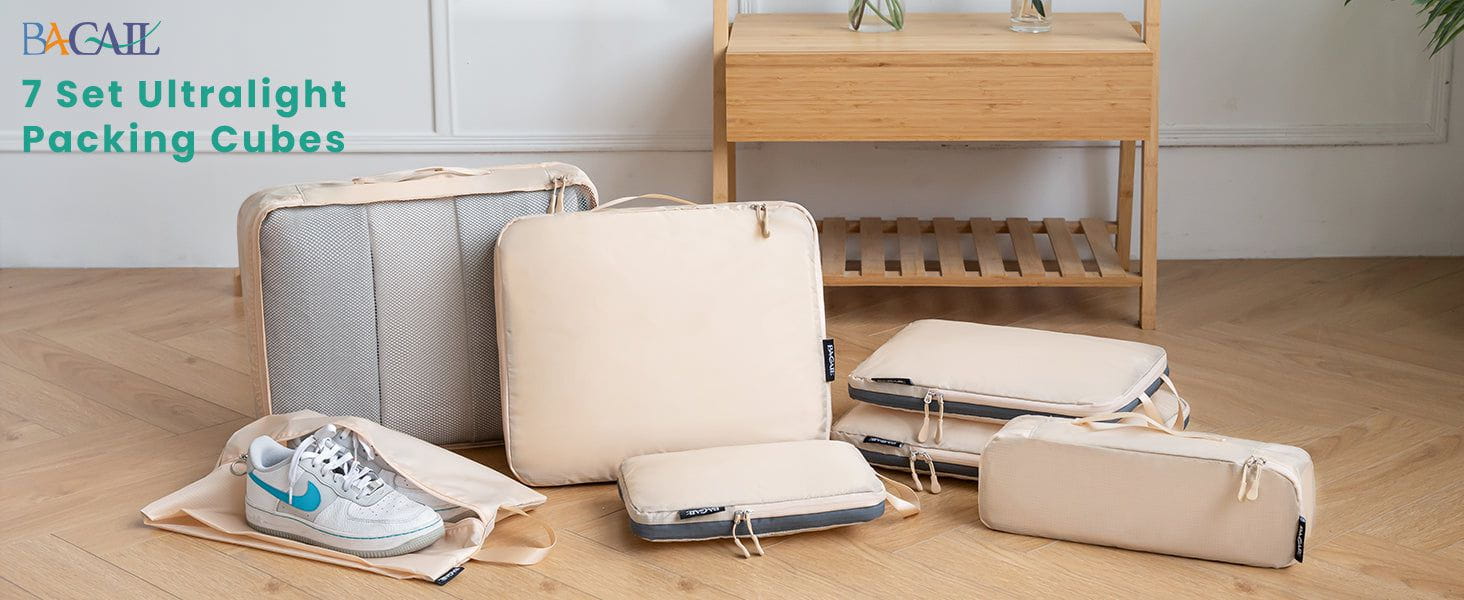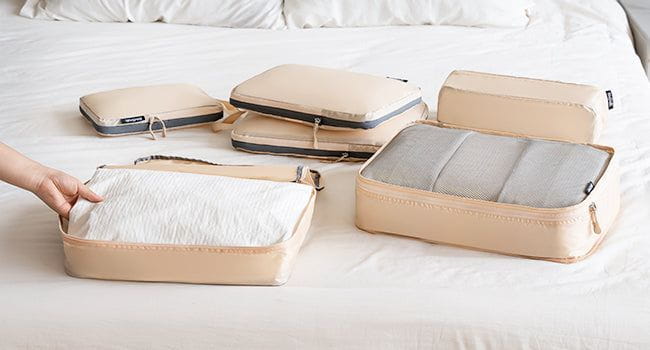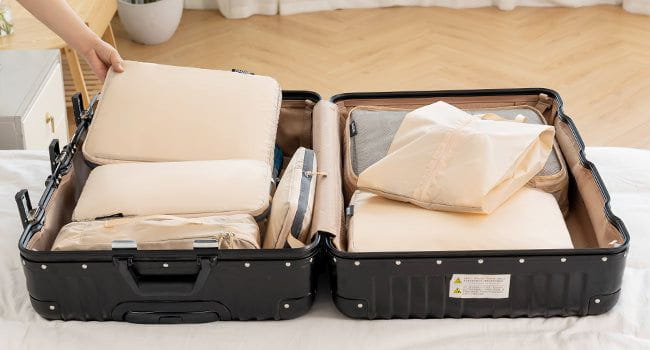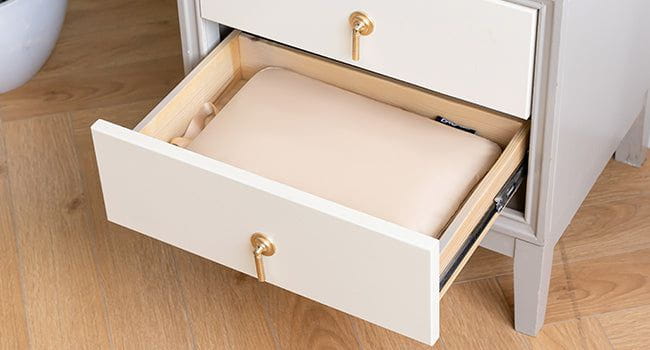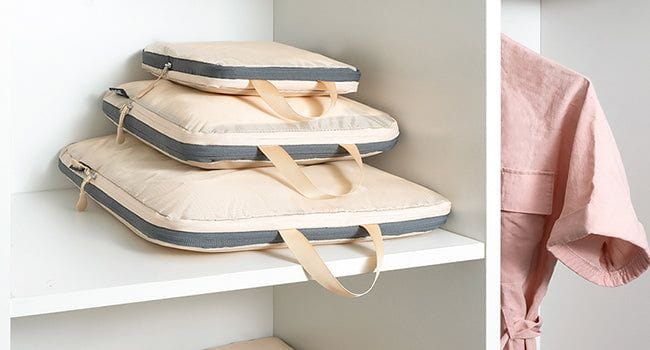 【Ultralight & Durable 70D Nylon】-These packing cubes are made of ultralight 70D nylon fabric, which is a lightweight fabric with lower denier. It's reinforced with ripstop that a reinforcement technique increases a material's resistance to rips and tears, so they can withstand long time use.

【Well Organized】-We offer 3 regular and 3 compression packing cubes with 1 shoe bag to meet your different packing needs. Classifying and organizing your belongings for your travel will become easy with these ultralihgt packing organizers.

【Space Saving】-These 3 compression packing cubes will save up to 50% space via the exterior compression zippers. They` re great suitable for backpackers to save luggage space and reduce travel stress.

【Large Capacity】- Use the regular packing cubes together with the compression packing cubes to make more space in your luggage when traveling,it would be stress-free to take everything you need with you!

【7 Set Included】-3 compression: 1L-15*12.75, 2M-14*10"; 3 packing organizers: 1XL-17.5*12.75*4", 1L-15*12.75*3.5"; Slim-14*4.5*3.5";1 shoe bag-16.9x10.2
Amazon Fba Shipping in the US only
Payment & Security
Your payment information is processed securely. We do not store credit card details nor have access to your credit card information.
Great solution to help keep your packing organized and minimized!
Nice little packing cubes. Came with a few compression types and 3 non compression, just bags essentially. I used the compression ones to go on a 3 day vacation and they worked pretty well. I squeezed 4 day outfits, undies, dinner outfits, and sleepware into a backpack. with room for toiletries and an extra pare of shoes. I did take a star off because the stitching isn't the greatest and one of the compression ones burst it's seams and I had to sew it back together.overall, not bad for the price - keeps your bags neat and minimal!
Versatile
I've been a fan of packing cubes for ~20 years: whether you are a clothes "folder" or a "roller", cubes save luggage space, greatly simplify packing, and limit wrinkling. Organizational benefits are huge -- not only during packing, but also during stays, as cubes can be simply tossed into a drawer or onto a shelf allowing unpacking without unpacking. Over the years I've acquired several different types/sets of cubes. My favorites are constructed of rip-stop nylon which the BAGAIL organizers are because it is extremely light yet durable. I also prefer cubes with at least some mesh to allow easy visualization of contents.What makes these BAGAIL organizers different is that 3 (of the set of 7) have zippers that allow optional compression. If trying to minimize your luggage to a carry-on, or if dealing with bulky items such as sweaters or puffy jackets, compression cubes are space-savers. The only potential issue is exceeding baggage weight allowances because you can now fit more into a suitcase.The extra-large mesh-topped cube was a perfect fit in our behemoth suitcase (a competitor's X mesh cube is below). Of course, mesh cubes do not feature a compression zipper. The other BAGAIL cubes were sized to fit like a jig-saw puzzle.The zippered shoe bag works much better than plastic or drawstring bags.Construction: smooth zippers, no hanging threads, well-sewn. Zippers seem robust enough to withstand compression within reasonable limits. The blue is a lovely color. The enclosed card with packing directions is a nice touch.There is nothing that I dislike about this set. I love them and have already utilized several in combination with cubes I already own. Very pleased!
The best packing cubes!
I didnt know packing cubes were not all created equal until I used these ones. The added feature of an extra zipper to compress your clothes is a HUGE space saver. Not only is your suitcase going to be organized, it will be compact so you can take the most for your space. These cubes are extremely lightweight, while still maintaining sturdiness. The handles are also a great feature.I like that there is one mesh cube because it lets my clothes breath. I think this set would be made better by adding the mesh to one of the cubes in the set, and perhaps a smaller cube meant for undergarment. Its also a little pricey in comparison to some sets I have seen, however there are a lot of cubes and it does have the additional feature of compacting.Overall this set is fantastic and I would highly recommend it.
Different sizes
There are a couple different sizes and 4 of them have the adjustable zipper to make them bigger to pack more. I like the fact that they have handles on them as well. They do have a plastic texture which I havent tested yet if they are water proof rather than a cloth like which I would have preferred. But I will get some use out of them.
Love this set of packing cubes and bags
The bags are lightweight but seem to be well made. The 3 compression bags have zippers on the side so theyre expandable and then you can zip up to compress things further to save space. The packing cubes are big so you can put jeans in there. It even came with a card that shows you how to fold up your jeans and your shirts. I like the design on the bags with the pretty flowers.
Light, Configurable, High Quality, should work for many years!
The media could not be loaded.










?My thoughts on Bagail Ultralight Packing Cubes 7 Set, 3 Compression Packing Cubes 3 Packing Organizers With 1 Shoe Bag-Blue.I believe the packing cubes will be great organizers either for short trips or long ones. They are ultralight and high quality. Three of them are expandable so it is up to the user how they want them to be configured. I like that there are a few degrees of variability: different sizes, designs (mesh/no mesh, expandable/non-expandable).My photos do not give justice to the color - it is neither blue nor green.I think the packing cubes will serve me for many years!One thing that the manufacturer could think of, is to figure out something to allow the users to differentiate cubes if needed. For instance, it might be hard to say what inside the expandable cubes is without opening them - some kind of tagging/labeling could be useful for the situations when the cubes from the same set are used for a few family members.Thanks!
Multiple sizes and lightweight for travel - includes both compression and regular packing cubes
I ordered the black packing cubes. I want to maximize my suitcase space plus I also want it organized. The packing cubes help me achieve both. They are made of a very lightweight 70D nylon, which the seller claims helps prevent progressive runs and tears in the fabric. The set includes a shoe bag, three regular packing cubes, and three compression cubes (the type you can expand with a special zipper, and then zip closed to press down the contents, similar to some suitcases). All the cubes come with nylon handles and nylon zippers. The largest packing cube features breathable mesh on one panel. You don't have to worry about these cubes adding any weight to your bag -- just organization. I'm using mine not only in a suitcase, but also in a duffle bag, to help compartmentalize the contents. I hope this is helpful to you.
These things surprised me, In a good way!
I examined the Amazon page that offered these Bagail Ultralight Packing Cubes and I was expecting a somewhat large package. They arrived all packed into one of the 7 bags, and not even the largest one. They are made of a very light and thin material, that folds easily.Each bag can be used to store a certain type of clothing, and then placed into a piece of conventional luggage with all of the clothing of different types separated. Kinda nice, especially for shoes.As the Amazon page states, these would be excellent for backpackers since the back packs can be a bit cluttered. These bags keep each type of clothing or item separated for easy access, plus each bag is water resistant.The material they are made of is very tough. If it can be ripped at all, it certainly wouldn't happen easily.
A nice upgrade from plastic bags
My favorite thing about packing cubes isn't that they save space (they do), or that they look good (they do), or that they make packing and unpacking easy. What I love is how they turn my written packing list into visual cues. I don't need to rely on a list to remind me about what I need. If the bag I use for underwear is empty, then I know I still need to pack underwear. It's in tune with how my visual mind works.The bags are well-made from good materials. The ripstop nylon is lightweight but durable. The zippers work smoothly and don't catch or bind on the fabric. I was a little worried initially when I noticed that one of the closed zippers had a gap in it, but it healed when I opened and closed the pull. Then I tried to "break" the zipper again by tugging on it hard. It held, and hopefully it will continue to do so. Other than the shoe bag, these bags are meant to be used for clothing, so I think the stress on the zippers will be minimal.There's a good variety of shapes and sizes in the kit, and they fit well in my suitcase. I particularly like the compression bags for their space-saving ability. They have two sets of zippers, one to open and close the flap, and one that compresses the side gussets. Just press down gently on the clothes in the bag while zipping the gusset zipper, and the bag decreases in thickness by half. Nice!
Perfect for what I needed
These come as described. They do not compress like a vacuum bag but still compress enough to save space. You can fit a lot in the compression bags depending on how you fold it. Could comfortably fit 12 tshirts in medium bag. Zippers work well. The regular bags hold a lot as well. The large bag fit a fleece jacket plus multiple pants and tops.