Roll over image to zoom in
Description
Pack Your Travel Needs ALL IN ONE!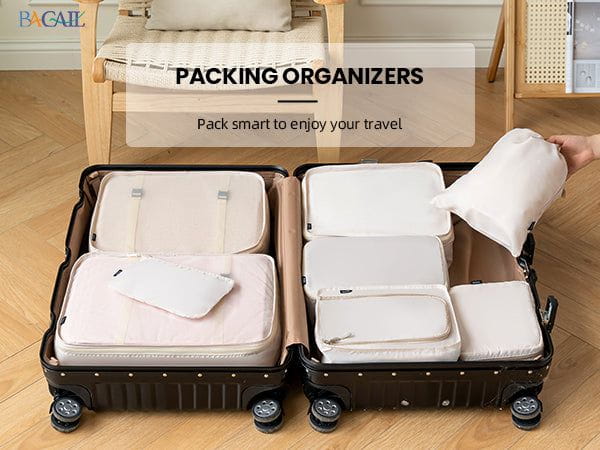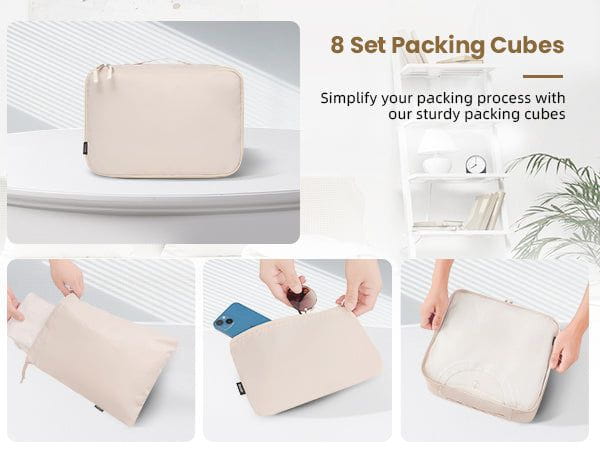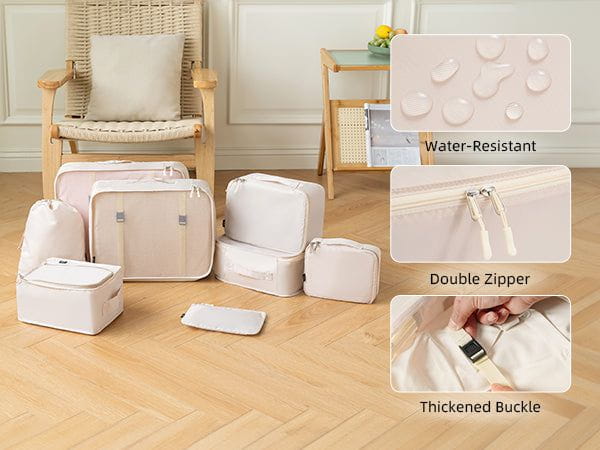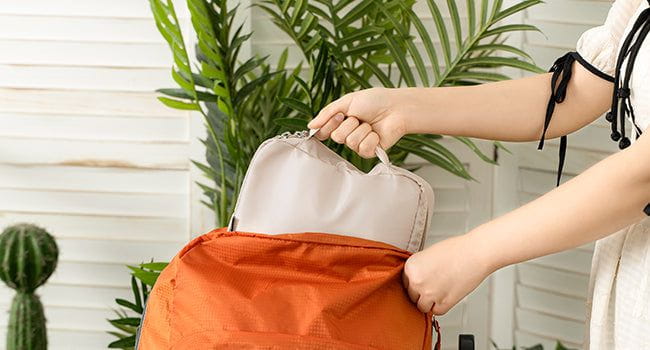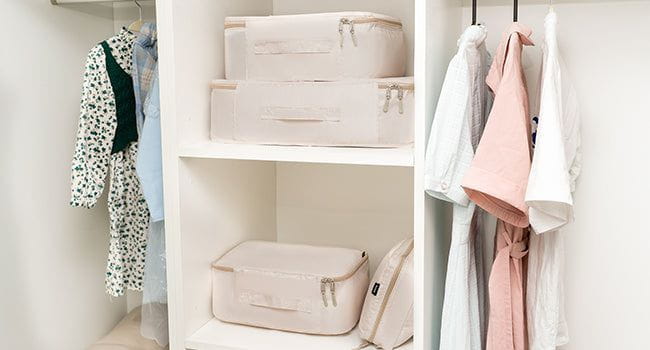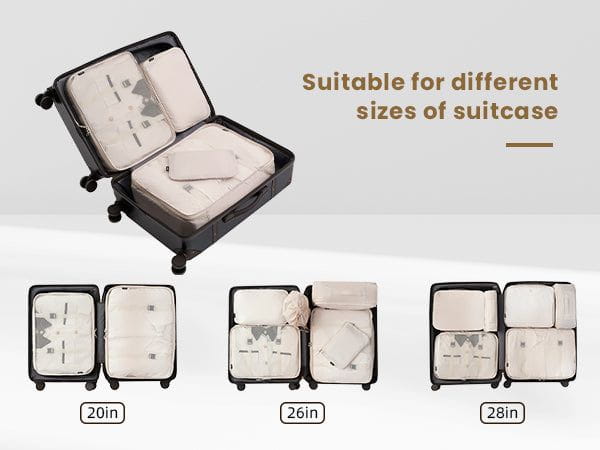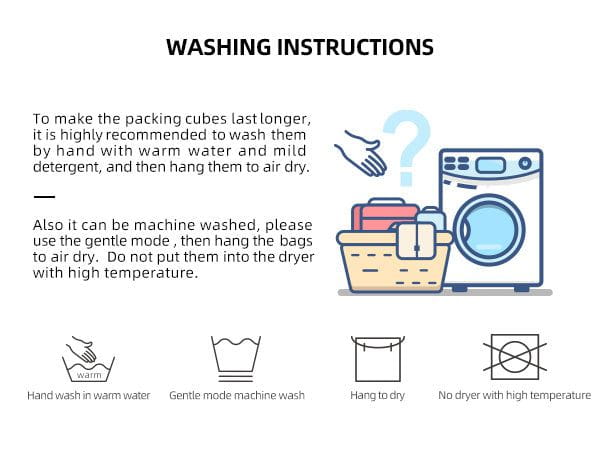 Zipper closure

PREMIUM UPGRADED NYLON FABRIC:Smooth Nylon Fabric Protects Your Clothes from Wrinkles and Stains.High Performance Feature Makes Sure this Packing Cubes can Bear High Density Wear and Tear during Traveling.Water-Repellent Feature Nicely Protect Your Clothes from Spill or Leaks.

LIGHTWEIGHT&DURABLE:Super Light Nylon Fabric Ensures Storing Your Clothes Neatly in Luggage without Adding Extra Weight.Sturdy&Smooth Double Way Zipper with Extended Cord Ensure Fast&Easy Opening and Closing of the Packing Cubes.Soft and Smooth Mesh Top Panel can not only Protect Your Delicate Clothes from Wrinkes and Odors,but can also Help Identifying Your Clothes via Visible Mesh to Avoid Fumbling Inside Your Entire Luggage.

ORGANIZED PACKING and SPACE SAVING:Separating Your Different Clothes with Packing Cubes of Multiple Sizes and Vivid Color Options Available.Time-Saving for Your Traveling,Trip or Outdoors Activities by Avoiding Misplacing Different Items and Make Full Use of the Space in Your Luggage.

VERSATILE and MULTI-FUNCTIONAL :Fits Like a Glove into Most Airline Carry-ons,Tote,Weekender,Backpack,Duffel Bag,etc.for Family Breaks,Business Travel,Vacation,Hiking,Camping,RV,Trip,etc.

MONEY BACK GUARANTEE: Offering you the best products and serving all your needs have always been our top goal. We stand behind all our BAGAIL products and offer an unconditional guarantee for the quality and craftsmanship in 12 months.
Amazon Fba Shipping in the US only
Payment & Security
Your payment information is processed securely. We do not store credit card details nor have access to your credit card information.
Packing made easier
These packing cubes made my traveling life so easy! We recently went to DC and used them for the first time. I love that I knew where everything was because I packed my undies in one cube, my tops, pants and toiletries in others. Unpacking meant removing the packed cubes to shelves. They are very lightweight and thin so be careful not to snag the fabric.
Didnget to use them
I really loved these packing cubes and was looking forward to using them but the clip broke before my trip started. If the clip was better quality this would be a perfect product in my book
Its cute and functional.
I was able to fit a lot in the big cube alone. I only needed the two biggest cubes for my big suitcase.
More than I expected
Havent used them yet.Glad they are plain cream color.2 zippers for easy opening
One packing cube came damaged.
Everything was okay besides one of the packing cubes came damaged at the end of the zip strip. Eventually zip came off.
Very useful for travelling
I recently went on a trip and this was the first time I was using packing cubes. After reviewing several other brands of packing cubes I decided to go with the Bagail brand and ordered the set of 8 cubes.I was able to use all 8 packing cubes, using the largest cube to pack a pair of jeans, capri pants, a light spring jacket and even a large towel. Second largest I packed all my tops, and then the other cubes one I packed my socks, underwear, camisoles and bras, another one with my bathing suit, flip flops and other pool items, another cube to pack my hair items (flat iron, hair dryer and rollers. Was able to pack two pairs of size 9 shoes in the shoe bag.What was helpful when I got to my hotel it was very quick and easy to unpack because I just took out the cubes and placed them in the drawers provided by the hotel.The packing cubes also came in handy when I took one of them to pack a towel, my flip flops and other pool items and put the cube in my backpack and head out to the beach or pool.I do recommend these packing cubes to help keep your clothes contained and organized and for relatively easy unpacking and re-packing when it's time to go home.
Lots of storage!
view:These bags are very well made. I love that some have the mesh tops so you can see what is inside. That is very helpful when packing for multiple family members. The solid ones are perfect for more personal items. I never thought Im be one to use packing cubes, but now I cant see myself packing any other way! You can fit so much in them and it really does help to keep the suitcase organized. They are also perfect for short, overnight stays. In the medium bag, I fit 11 shirts, without squishing them (see pic). And in the large bag, I fit 6 pants (see pic)! I probably could have fit more, but that was all I needed. The shoe bag is awesome too! Easily will hold 2-3 pairs of shoes. I could probably pack for 2 people in the extra large bag. Having the extra bag for dirty or wet clothes is a great bonus too! This 8 piece set will easily suit the needs of my family. The color was a bonus, as my daughter is favorite color is teal. Zipper quality seems adequate. All pieces have handles, except for the cosmetic bag. Great value for the price!?,85 people found this helpful"
Great for vacations
I wish they all had mesh tops, but as my second set, they worked perfectly and gave me plenty of options when packing for my week long trip to Puerto Rico.
The recipient was quite thrilled with it
I bought this as a "steal the gift" Christmas game. My daughter, who opened it, hid it so that no one else would steal it from her. Since she is rather her to buy gifts for I was so happy she got something she really liked.